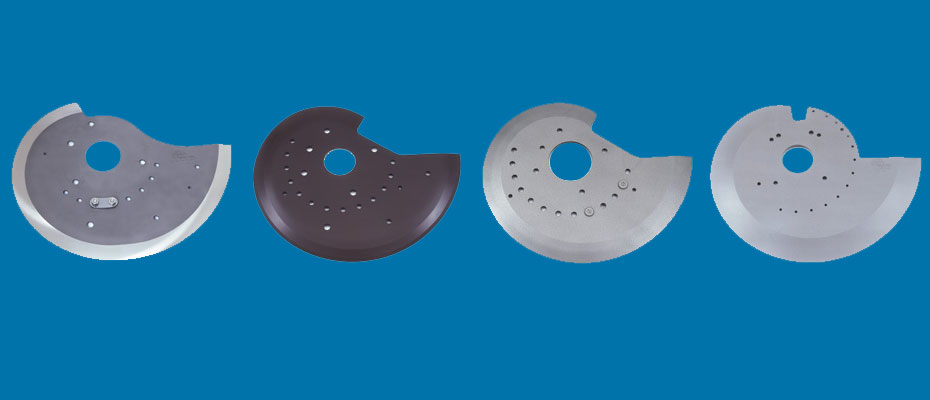 INVOLUTE KNIVES
In our view customer satisfaction is based on the premise of providing high speed slicing knives that perform optimally for any given product.
We have developed involute knives from 200mm radius up to 600mm. The depth of blade varies depending on slicing application. Since customer demands, such as stacking, shingling, paper interleaving, temper slicing, warm slicing, abrasive product slicing, we offer a large series of different blade depths and blade angles.

Some of the more commonly available types of blades are:
2 mm dish
4 mm dish
6 mm dish
8 mm dish
3/8" dish
3/16" dish
Flat
These knives are available in Teflon or hard finishes. Knife angles are precision ground to exact specification thereby increasing production yield and ensuring a superior product.

Serrated edge available
Some of the Standard Grinds Available are:
A Grind: Hamburger, rolled beef ( thin slice), beef chip steaks (thin slice), very cold bacon.
AH Grind: Casing type Product
B Grind: Standard bacon, chip/flake very cold beef
BH Grind: Standard sausage
C Grind: Pork chops, bone-in products
DB Grind: Dried beef
GH Grind: Sausage, Pullman boiled ham, olive and pimento loaf
WH Grind: Ham, Bolo, general purpose
WD Grind: Standard sausage, general purpose
XH Grind: Sausage, Pullman boiled ham, olive and pimento loaf, very cold product
Measurement of Slicer Knives ( Standard Blade)

Measure knife from edge of mounting hole to farthest tip ( from 'A' to 'B' ). This measurement should be taken on the backside of the knife. The knife should not be smaller than 12-5/8". Generally, up to 1/8" is ground off the knives during grinding to maintain proper angles. Please take into consideration excess honing, chips or cracks that may have to be ground out.
Rudolph Industries' quality craftsmanship guarantees optimum performance of all our cutting knives. We have the facilities to match or create most cutter knives. Please call regarding any knives not shown.